Jayden being Spiderman is the first episode in The Good Days series, and also the first video 
Amie
 ever uploaded. It was uploaded on 3/28/10.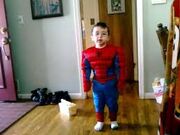 Jayden is wearing his Spiderman costume to day care.
This is the first episode in the series.
This is the only time Jayden is seen without glasses.
This was before Jayden's diagnosis.
Transcript
Edit
Jayden: (Smiling) Cheese!
Amie: Cheese! Where's your glasses at? They're behind you. Are you wearing your Spider-man to day care today?
Jayden: I don't want to push. I'm not gonna push, Mom.
Amie: You're not gonna push the other kids?
Jayden: No.
Amie: Promise?
Jayden: Yeah.
Amie: Okay.
Jayden: (Mumbles)
Amie: Huh? Lila?
Jayden: I want her to be there. Lila's my friend.
Amie: Yeah, Lila's nice. I like Lila.
Jayden: Yeah.
Amie: Yeah.
Jayden: But she's my friend. I can show her around my (mumbles).
Amie: Mm. Can you sing um, a song for me?
Jayden: What?
Amie: Can you sing a song?
Jayden: Why? Mom. Spiderman don't sing song!
Amie: Spiderman doesn't sing do you want this on?
Jayden: (Makes a sound as Amie puts his Spider-man mask on him)
Amie: Ha ha! Look at you!
Jayden: (Mumbles)
Amie: I think I might've put it on wrong.
Jayden: Huh?
Amie: No, that's right.
Amie: Ooh, wow.
(Jayden continues mumbling)