Jayden discovered the Beastie Boys! is an episode in The Good Days series. It was uploaded on 5/10/13 on Youtube.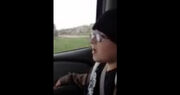 While in the car, Jayden is dancing to the Beastie Boys.
The song playing is "Brass Monkey."
Some people in the comments think that Amie is being a bad influence on Jayden to expose him to this music.
The video on YouTube is currently marked private.
To be added.