Project of Fri 08 Apr 2011 07:55:33 AM PDT is the 4th episode in the Good Days series. It was uploaded to Youtube on April 8th, 2011.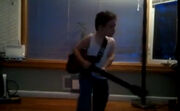 Jayden rocks out.
This was created with the Youtube Video Editor.
It is unknown why this video has such a specific name.
The song was "All Summer Long" by Kid Rock.
Jayden sung along near the end of the video.
To be added.
Ad blocker interference detected!
Wikia is a free-to-use site that makes money from advertising. We have a modified experience for viewers using ad blockers

Wikia is not accessible if you've made further modifications. Remove the custom ad blocker rule(s) and the page will load as expected.